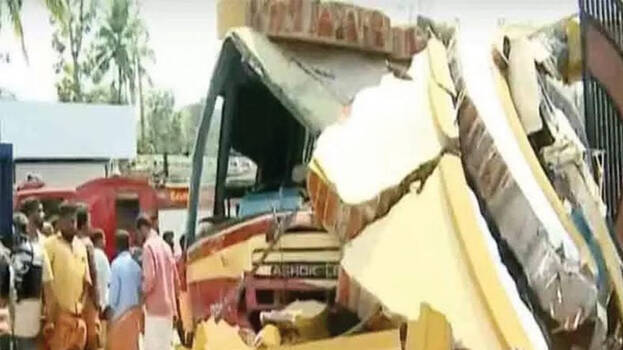 PATHANAMTHITTA: The Motor Vehicle Department (MVD) has taken action in the accident where a KSRTC bus and a car collided at Kizhavalloor in Konni. The MVD has cancelled the license of KSRTC bus driver Ajayakumar and car driver Jerome Chaudhary. The action was taken by Pathanamthitta RTO.
The MVD found that the cause of the accident was the negligence of both the drivers. The fitness certificate of the bus has also been cancelled. It was found that neither the GPS nor the speed governor were working in the bus. The motor vehicle department has also asked the bus conductor for an explanation.
The accident happened around 01.47 pm on Saturday. A fast passenger bus going from Pathanamthitta to Thiruvananthapuram collided with a car coming in the opposite direction. The bus stopped by hitting the gate of the nearby church due to the impact of the collision. The car also hit a bike parked on the roadside.