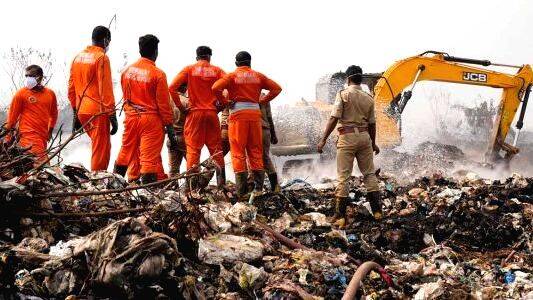 KOCHI: The High Court has praised the Fire Force for their round-the-clock efforts to put out the Brahmapuram fire.
"Failure to control the fire or the fire spreading to nearby areas would have had unimaginable consequences. The Director General of Kerala Fire and Rescue Services should convey the court's appreciation to the fiire dorce personnel for their tireless efforts day and night. The government should give appropriate reward to these front fighters", HC said.
Even though the toxic smoke has cleared, the fire force has decided to continue surveillance in Brahmapuram.
At present there are 15 fire tender units and 100 fire rescue personnel in Brahmapuram. 75 civil defense forces are also there to help them. Units and personnel brought from distant places will be sent back soon. The staff are deployed in such a way that they can be dispatched from other stations in the district within an hour in case of an emergency. Around 10 excavators have been set up in Brahmapuram. The monitoring is being continued under the leadership of District Collector NSK Umesh, Regional Fire Officer JS Sujith Kumar, District Officer K Harikumar, Thrikakkara Fire Station Officer KN Satish and others.