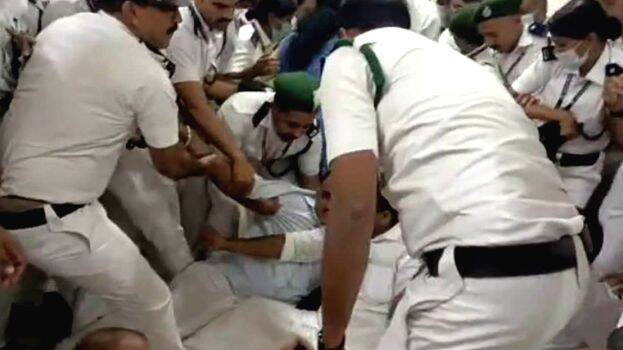 THIRUVANANTHAPURAM: The Kerala assembly building on Wednesday witnessed a conflict that lasted nearly 45 minutes. The opposition MLAs were beaten up by the ruling party MLAs, the personal staff of the ministers and MLAs, as well as the watch and ward. The clash took place in the corridor in front of the Speaker's office on the first floor.
On Wednesday morning, the opposition MLAs raised slogans and held up a banner saying 'Speaker should show justice'. What followed was an extraordinary conflict.The opposition did not make any attempt to break into the Speaker's office.
The conflict began when the watch and ward manhandled Thiruvanchoor Radhakrishnan during the protest held by the opposition in front of the Speaker's office. When the opposition MLAs questioned this, KM Sachindev, K Ansalan and other ruling MLAs and personal staff started pushing and manhandling the opposition MLAs. The opposition was enraged when some MLAs of the ruling party started using indecent language. Following this, ruling and opposition members shouted at each other. In the meantime, Saneesh Kumar Joseph was kicked and pushed by the watch and ward. Saneesh Kumar fell on the ground and became unconscious.
Several MLAs were injured in the conflict. KK Rema and Uma Thomas questioned the atrocities of watch and ward. The tension did not subside even when opposition leader VD Satheesan reached the spot. The tension was eased when the watch and wards stopped using force against the MLAs as per Satheesan's request.