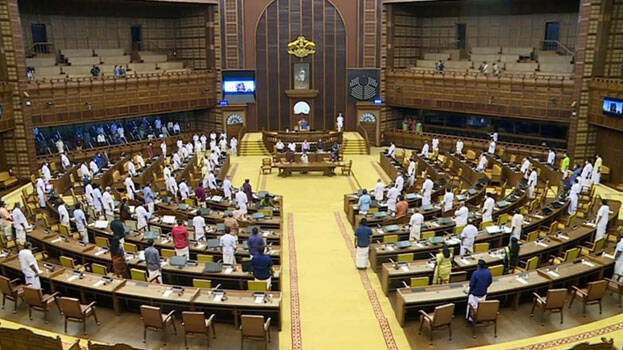 THIRUVANANTHAPURAM: Speaker A N Shamseer said that the opposition staged a blockade in front of his office in the legislative assembly. But the opposition leader, VD Satheesan, replied that they were conducting a satyagraha and the watch and ward were attacking the opposition members without provocation. There was an uproar in the assembly even today. As the Question Hour session was progressing, the opposition protested. Following this, the Speaker quickly ended the proceedings and the assembly was adjourned.
In the meeting of the party leaders held today morning, the opposition demanded action against the Watch and Ward and the ruling party MLAs. At the same time, the Speaker said that the clash that took place the previous day was unfortunate and should not have happened. The Opposition leader also agreed with this opinion. When the opposition demanded strong action in the incident, the Speaker clarified that action would be taken after investigation. The ruling party also demanded that action should be taken against conducting a parallel assembly session.
Then the opposition stood up criticising the Speaker. The complaint was that adjournment motion notices are being rejected continuously. The ruling party criticized that the opposition protests are crossing the limit. The opposition replied that the Speaker's path was not blocked. It was during this time that the Speaker said that blockade took place in front of his office. The opposition leader criticized the Speaker for denying their rights and said that four opposition members were injured. VD Satheesan demanded action against two ruling party MLAs and Watch and Ward staff. The Speaker blamed the opposition for raising the banner in the assembly by blocking his view and for leaking the footage of the protest in front of his office in the assembly using mobile phones.
The Speaker pointed out that despite conducting a parallel assembly and leaking the footage using mobile phones, no drastic action was taken against them. VD Satheesan criticized the Sabha TV for completely avoiding the opposition protests and alleged that it shows the ruling party members even when he was speaking.