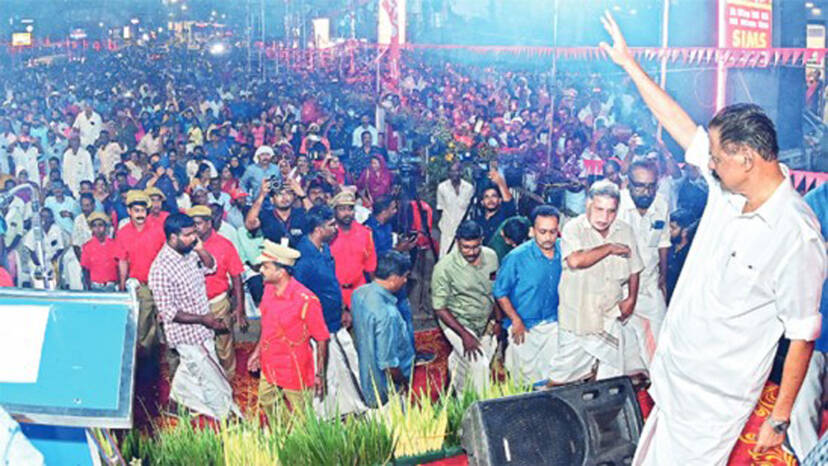 THIRUVANANTHAPURAM: The popular Janakeeya Prathirodha Jatha, which started from Kasaragod under the leadership of CPM State Secretary MV Govindan to expose the central government's neglect of Kerala and explain the alternative policies of the state government, had a grand finale with the participation of lakhs of people. In the concluding meeting held at the Putharikandam Maidanam in Thiruvananthapuram yesterday evening, people gathered from four constituencies in the city limits.
CPM General Secretary Sitaram Yechury inaugurated the concluding session. Minister V Sivankutty, who is also the chairman of the welcome committee, presided. The prominent leaders of CPM reached the stage. Senior Leader S Ramachandran Pillai, Polit Bureau Member MA Baby, Central Committee Members AK Balan, Thomas Isaac, Elamaram Kareem, Minister KN Balagopal, PK Srimati, KK Shailaja, State Secretariat Member Anavoor Nagappan, District Secretary V Joy, District Prominent Leaders Anathalavattom Anandan, M Vijayakumar, Kadakampally Surendran, TN Seema, State Committee Member AA Rahim MP, VK Prashanth MLA, Mayor Arya Rajendran and others were present on the stage. CPM state committee member and minister MB Rajesh translated the inaugural speech into Malayalam. A civic reception was also given to the Jatha captain and members at the venue.
In his reply speech, MV Govindan said that the strong participation of the people in the march is proof that the entire people have realized that they have the responsibility to defend themselves against the forces that are trying to destroy the government of Kerala. PK Biju was the Jatha manager. M Swaraj, CS Sujatha, Jaick C Thomas, and KT Jaleel MLA also took part in the procession.
President gave the reply to Amit Shah: Yechury
In his opening speech, Sitaram Yechury said that the President had given a reply to Union Home Minister Amit Shah who had spread bad propaganda about Kerala by coming here yesterday and praising the state. 'I came here to answer all the accusations spread by the central ministers. But with the President's speech, my job became easier', Yechury said.