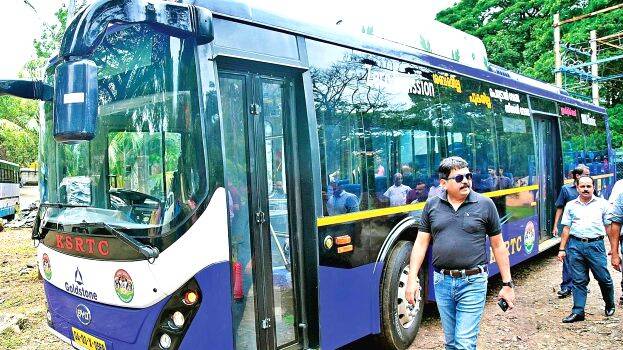 Run as connecting services
KSRTC prepared the plan
THIRUVANANTHAPURAM: KSRTC has planned to run 450 electric buses in the first phase under the central power department's National e-Bus Program for long-distance services in the state. It will run as connecting services depending on the distance. For the Thiruvananthapuram-Kasaragod service, the arrangements will be one bus from Thiruvananthapuram to Alappuzha, from there another to Thrissur, another to Kozhikode, and then the next bus to Kasaragod. This is to avoid charging in between stops. One ticket will be enough.
The services will be operated by KSRTC Swift. At present, long-distance services travel at fixed intervals. Passengers won't even need that much time to change buses and board the next one. Switch Mobility, a subsidiary of Ashok Leyland, won the tender to supply 450 e-buses. It can run up to 300 km on a single charge. Switch Mobility officials will soon reach the state to conduct a route study. Under the central scheme, Kerala will get a total of 750 e-buses.
Conductorless buses
On long-distance services with a limited number of stops the conductor will be omitted. Instead, tickets will be issued to passengers from the stops where the bus halts. This is the practice in some other states.
Driver and maintenance by the company
The company will also provide the driver. Repairs will also be done
Kilometer fare is ₹39.5, after 450 km the rate is ₹20
Earlier the fare paid for E-bus Electra was ₹ 43.20
Electra bus: 9 meters long, 30 seats. Switch Mobility Bus: 12 meters long, 41 seats
Diesel buses next month
13 diesel buses bought with KSRTC plan funds will start service as superfasts from next month. These too will be driven by swift.