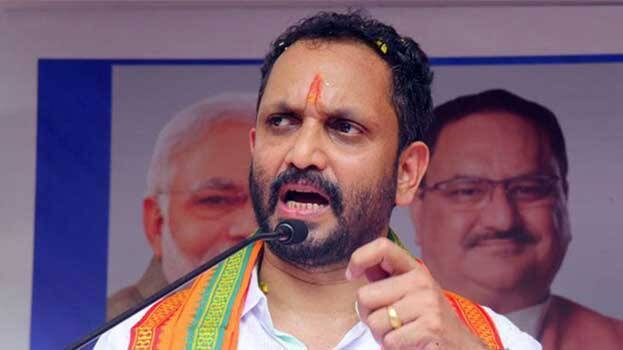 THIRUVANANTHAPURAM: BJP state president K Surendran asked the Kerala CM Pinarayi Vijayan to give up the home portfolio following the rise in police crimes in the state. The BJP leader was meeting the press in Thrissur when he said the criminal faces within the police forces are increasing and no one is taking guardianship to control the fiery and despicable run of police forces in the state. The comments were purported mostly at the recurring custodial murders happening in the state.
" It is police raj in Kerala. The horrid story of Manoharan from Thripunithura is a shame for the state home ministry. He was stopped for vehicle checking but was beaten to death by the police forces who are assigned to protect the lives of citizens. There were numerous cases including intelligence reports citing the police misuse of power and the burgeoning criminals inside the forces. Yet the chief minister stayed mum. Pinarayi views police just as a tool to offer him protection with a beeline of cavalcade vehicles" Surendran lashed out.
Surendran also shed light on various other incidents of Police exploits in the state. He said the government is trying to shield a CPM worker in the medical college Kozhikode who was found guilty of raping a woman inside the ICU. The staff members who tried persuading the victim are still not caught by the police.
He also commented on the Pattur incident of a single-parent woman getting molested in the dark of the night. The police made a condescending attitude and dragged the case from being filed. The lady later decided to move to Delhi from Thiruvananthapuram for fear of the inept approach leashed out by the police force. Surendran said if tried the police could have caught the assailant in 30 mins, but they moved with other options.