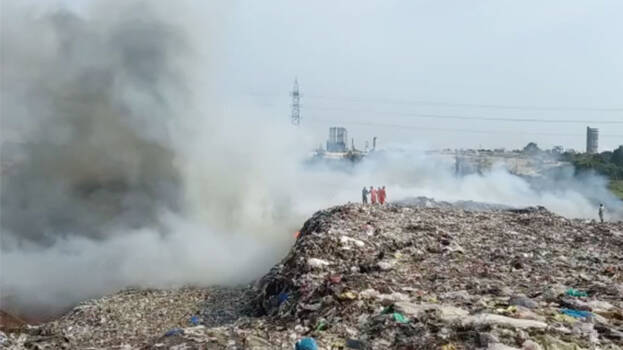 KOCHI: The localities and common people reached near the Brahmapuram plant in a show of big protest against the authorities after a second fire broke from the infamous plant. It was after a yeoman work that the authorities doused the fire in Brahmapuram a month back. Now, the incensed people are saying they won't allow the authorities from the corporation to come near Brahmapuram.
By noon today, sector 1 in the waste plant caught fire. The fire engines reached the spot immediately with dousing works. District collector N S K Umesh also assured about the incident was not akin to the month-old Brahmapuram calamity. Meanwhile, Minister M B Rajesh said the fire has been doused and only the smoke remains.
However, bringing a shady lens to the issue, the former contractor company Sonta reached the Brahmapuram plant eliciting dubious concerns for the people. The locals say that the plastics are still dumped in piles with no regard for the earlier done rescue mission. Last month's calamity in Brahmapuram resulted in toxic fumes entering the human habitat and people choking and reaching hospitals complaining about difficulty in breathing.