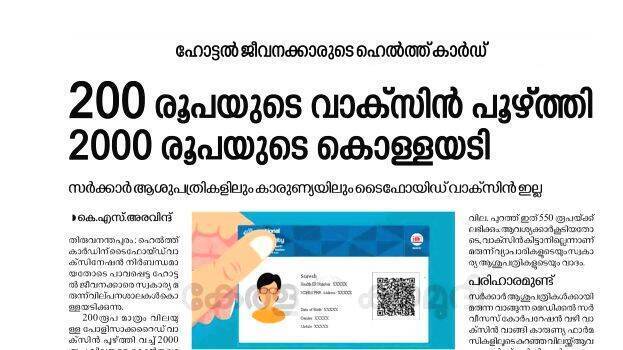 THIRUVANANTHAPURAM: Polysaccharide vaccines will be made available through Karunya pharmacies, informed the government. The action is meant to restrict the shrewd move from private medical shops storing low-cost typhoid vaccines but selling high-price vaccines to the poor in the state. The vaccines through Karunya will cost Rs 98. The Kerala medical service corporation bought 25000 doses of vaccines at Rs 90 each from Bharat Biotech.
Keralakaumudi reported the scam of private medical shops in a feature published on February 12. The need for typhoid vaccines reached an all-time high after the health card was made mandatory for hotel workers. The migrant workers in need of this reached the medical shops only to be fooled by the shopowners to buy high-expense typhoid vaccines which cost around Rs 2000.
The workers who just made a mere pay couldn't afford the mandatory vaccines. The news and their plight reached the minister Veena George, who initiated actions to make available the vaccines in Karunya pharmacies.