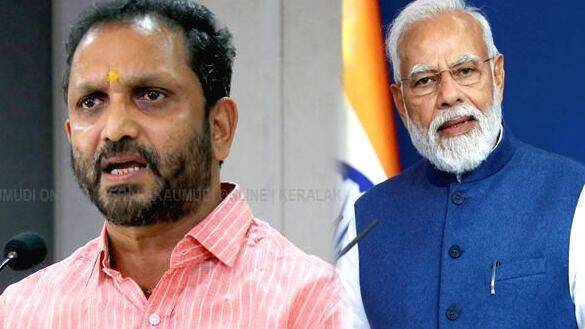 NEW DELHI: The national federation of Indian women has forwarded a complaint to Prime minister Narendra Modi regarding BJP state president K Surendaran's misogynist remarks. The complaint asked for immediate correctional steps. The letter also says about how the remark can tamper with the G20 hopes of India being recognized as a global power. Aruna Roy and Annie Raja wrote the complaint to the prime minister.
Meanwhile, cantonment police have already registered a case against K Surendran for his unpolished comments directed at CPM women leaders. IPC 509,304 has been charged against the BJP leader. Amidst the hullabaloo, K Surendran came up with justification against the now-spreading controversy over his remarks.
" Putana remark was just a political statement. It was not directed at any individual. The CPM women leaders after getting into power are misusing their posts just to mint money. All the details are available to the public. The raising of this issue to newer heights will help V D Satheeshan to bridge ties with CPM. Earlier, CPM's Sudhakaran called congress leader Shanimol Usman Putana. V D Satheeshan kept mum then. M M Mani is a frequenter with such statements, and nobody in congress batted an eye. Muslim league denigrated Riyas's marriage as prostitution, V D Satheeshan never came to picture then" Surendran commented.