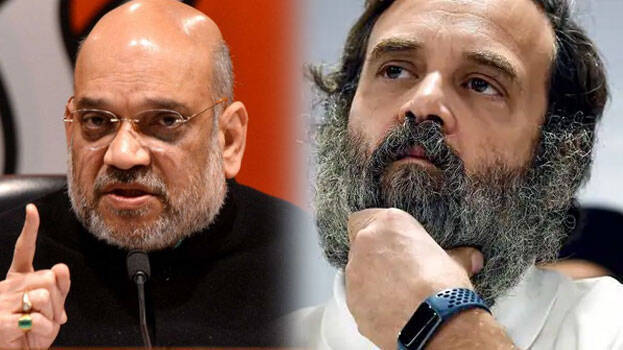 NEW DELHI: Union Home Minister Amit Shah has slammed Congress leader Rahul Gandhi for being arrogant as he has not appealed against Surat court's disqualification order. Shah said that Rahul Gandhi was not the only politician who has lost membership of the legislature after being convicted by a court and there was nothing to create a hue and cry about it.
"He has not appealed to take stay on his conviction. What kind of arrogance is this? You want a favour. You want to continue as an MP and will also not go before the court," he said, adding where such arrogance comes from. "This gentleman is not the first one. Politicians who held much bigger positions and with much more experience have lost their membership because of this provision," the Home Minister said. He added that it was Rahul Gandhi himself who tore an ordinance during the previous UPA government which could have helped him now.
Asked about the immediate notice to Rahul Gandhi to vacate his official residence, Shah said there was no hurry and it was just a natural process.
Meanwhile, Germany and US have responded to Rahul Gandhi's disqualification. Germany's foreign ministry spokesperson said that the fundamental democratic principles should apply in Rahul Gandhi's case. "Respect for the rule of law and judicial independence is a cornerstone of any democracy, and we're watching Mr Gandhi's case in Indian courts," US Department of State Principal Deputy Spokesperson Vedant Patel said.
The Surat Magistrate Court found Rahul Gandhi guilty of the 'Modi' reference in his speech during the Lok Sabha election campaign in Kolar, Karnataka on April 13, 2019. The court also sentenced two years imprisonment. "Lalit Modi, Nirav Modi, Narendra Modi, how come all the thieves have the common surname.", this was Rahul Gandhi's remark.