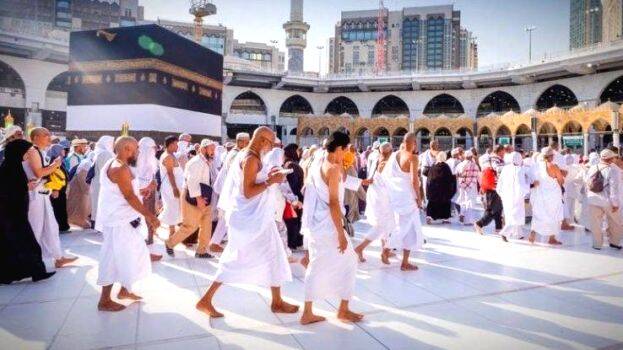 MALAPPURAM: 10,331 pilgrims have been selected from Kerala for Hajj through the State Hajj Committee so far. Out of this, 3,865 are male and 6,466 are female. A waiting list has also been prepared by drawing lots. The information on the Hajjis can be checked on the website of the Hajj Committee using the user ID of the applicants and through the mobile application hcoi.
1,430 people were selected in the 70-year-old category, 2,807 in the unmarried women (above 45 years) category, and 6,094 in the general category. Kozhikode Airport was chosen by 6,322, Kannur by 1,796, and Kochi by 2,213 as the embarkation point. Those selected for Hajj must pay the first installment of Rs 81,800 by the seventh of this month. Payment can be made online or at a branch of SBI or Union Bank using a payment slip with the bank reference number provided separately for each envelope from the Hajj Committee website. The total amount to be paid for Hajj, airfare, expenses in Saudi Arabia, etc. will be informed later.
The Hajj application form and photocopies of all supporting documents submitted online must be submitted by 5 pm on April 10. The application form and declaration must be signed by each applicant and nominee. Advance amount slip, original passport, passport size photograph (photo with white background should be pasted on the outer cover of passport with sellotape), medical screening fitness certificate with a photo attached(attested by government allopathic doctor), copy of front and back pages of passport, address proof (only if the address in the passport is different), covid vaccination certificate and cover leader's canceled passbook/check leaf copy should be submitted at State Hajj Committee Office, Karipur or Puthiyara Regional Office, Kozhikode.
For details contact state Hajj committee office or district Hajj trainers.
Phone - 0483 2710717, 2717572.

Hajj Trainers:
Kasaragod 9446111188
Kannur 9446133582
Wayanad 9961083361
Kozhikode 9846100552
Malappuram 9846738287
Palakkad 9400815202
Thrissur 9446062928
Ernakulam 9562971129
Idukki 9961013690
Kottayam 9447548580
Alappuzha 9947734315
Pathanamthitta 9495661510
Kollam 8086600806
Thiruvananthapuram 9895648856