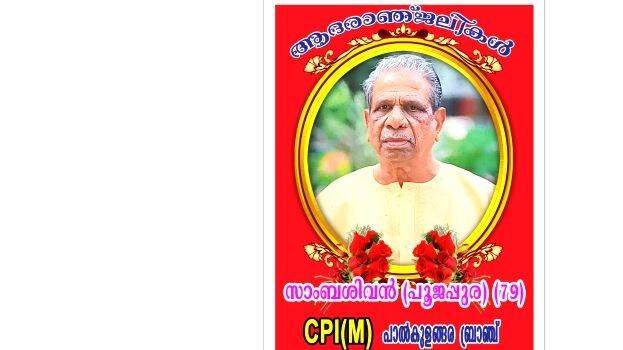 KOLLAM: Poojappura Sambhan, the close acolyte of communist legend AKG hanged himself in his home fearing home confiscation by a corporative bank.
Sambhan was found hanging in the window of his house in Palkulangara, Kollam. His wife Sharadha was bedridden for more than one year after suffering a fall. His only son Jyothy Dev lives separately from him. It was the maid who took care of the two. As usual, the maid arrived in the morning to only witness a hanging Sambhan. Sharadha meanwhile, unknowing of her husband's death was sleeping in the nearby room.
For his treatments need, Poojappura Sambhan took a loan of Rs 5 lakh from a corporative bank in 2015. Later the need called for more money and Sambhan took another Rs 4.10 lakh. He gave a good some of this money to help his relative but never received it back. The interest piled up and the bank asked for Rs 15 lakh in return. The threat was to confiscate the house and the bank showed haste in pasting a notice in front of Sambhan's home which humiliated him.
A final offer of Rs 12.25 lakh before March 31 was made and Sambhan's son collected near to Rs 10 lakhs and reached the bank. The adamant officers held to their stance of the full amount which made all efforts go down in the drain. Sambhan loathed the idea of going for help from his close friends, ergo ending his life in pain.
During the 80s, Sambhan was the stalwart of CPM in Thiruvananthapuram. He was arrested during the emergency and got shifted later to Kollam after securing a job. He is known for taking CPM legend AKG by his shoulders to help the latter jump the Mudavanmughal palace during the famous land ceiling protest.