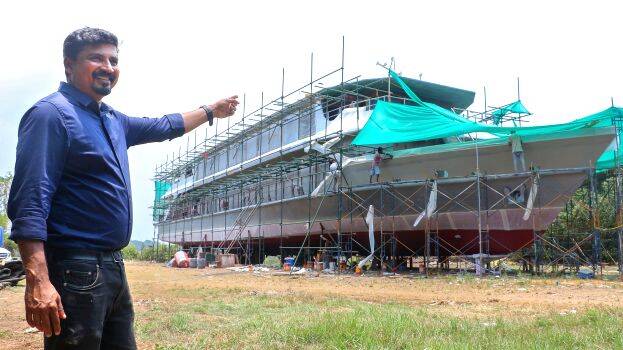 KOCHI: Kerala's largest cruise ship, built by Nishjith, who ventured into backwater tourism with a rented boat, will set sail on Monday. Nishjith, a Kochi man, built the 'Classic Imperial' at a cost of more than Rs 10 crore. It will set sail at 11 am at Ramanthuruthu in Kochi's backwaters. More than 60 workers are working day and night to complete the final painting work of this double-decker ship. Nishjith (47) currently owns four luxury boats and a small boat.
Nishjith's ship service will be from his own jetty on Marine Drive. For this, a nine-metre-long and four-metre-wide floating jetty was constructed. The ship will float on the 12-metre-long and one-and-a-half-metre-high rolling airbags. This alone will cost lakhs. Union Shipping Minister Sarbananda Sonowal, Union Minister V. Muralidharan and state ministers will participate.

Kerala Kaumudi had earlier reported Nishjith's growth from watch company representative to ship owner. The construction centre was set up by taking the land of the Port Trust at Ramanthuruth near Vallarpadam on a monthly rent of Rs 1,20,000.

In 2002, Nishjith and his friend ventured into backwater tourism by renting a boat. The first company with two boats was called Adithya Boat Cruise and Tours Operators. Neo Classic Cruises and Tours, which Nishjith later formed, built four boats.
Wife: Jensy Phillips. Children: Neeraj, Nijil.
Facilities
DJ, music band, dance, art forms, restaurant, feeding room
Passengers: 150
INR 1,500 - 3 hours journey per person including food
Sunset cruise (five and a half hours): Rs 3000
(Including dinner and high tea)
Route:
Marine Drive - Offshore
Length: 50 metres
Width: 11 m
Height: 10 m
Construction started on March 5, 2020.
Size
50 metres (currently the largest in Kerala is KSINC's Nefertiti Cruise at 47 meters)