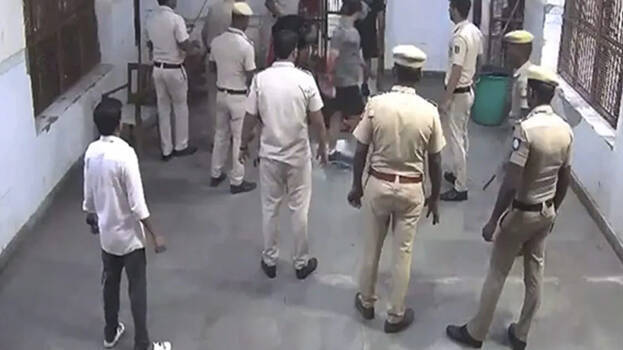 NEW DELHI: Seven officers of the Tamil Nadu Special Police have been suspended in connection with the killing in the Tihar Jail of Thillu Tajpuria, an accused in several cases including the Rohini court shootout case. They were suspended for not responding during the incident. Prison authorities had informed on Sunday that they will be sent back to Tamil Nadu.

The decision came after the Director General of Delhi Prisons, Sanjay Beniwal, sent a letter to the Tamil Nadu Police asking them to take action. The Tihar Jail authorities said that they have confirmed in a discussion with the top officials of the Tamil Nadu Special Police that departmental action will be taken against the suspended police officers. All the seven suspended officers were on duty in cell number eight where the murder took place. Tamil Nadu Special Police is also responsible for the security of Tihar Jail.
Footage of Tillu Tajpuria being stabbed in front of these security personnel was circulated on social media. Tillu was killed by more than 100 stab wounds at around 6 o'clock in the morning last Tuesday. The murder scenes were fully caught on camera.
It was done by six people. Thillu was surrounded by the group who stabbed him on the face, head and back repeatedly. The attack took place after Tillu's face was covered. Tillu can be seen in a situation where he is unable to defend himself as he is continuously being stabbed. Despite being stabbed and falling to the ground, the gang continues to attack. It was reported earlier that the assailants stabbed the body again despite the jail officials covering the body with a blanket.