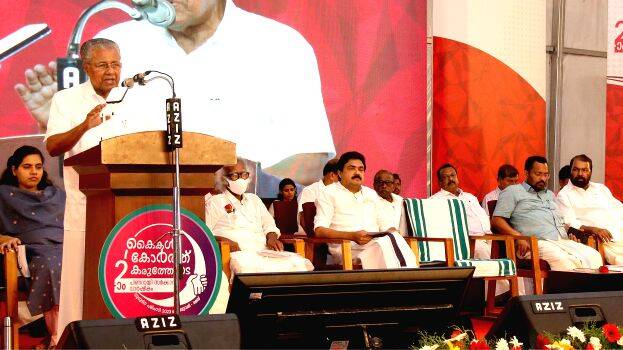 THIRUVANANTHAPURAM: Kerala under the LDF government turned into a corruption-free haven, said CM Pinarayi Vijayan. He said it was one of the most earned laurels of the LDF governance in the state. Meanwhile, CM Pinarayi Vijayan lambasted the erstwhile congress rule and said the state was doomed to destruction under their rule.
"There is no recorded corruption anywhere. No bias was given while approving the contract to anyone. Does the opposition have the guts to prove this wrong? Under the UDF rule, the touted Edamon-Kochi power line, National highways, and the Gail pipeline plan went into tatters. It was only after the formation of the LDF government that Kerala came out from the mire of UDF rule and moved to a path of development. Rs 5500 crore was spent from the state coffers for the land acquirement process meant for national highway extension. The BJP at center is trying all means to block all projects in Kerala through the vicious intrusion of central agencies. Within 25 years, the LDF government vision a new Kerala that will inspire awe in all" said CM Pinarayi Vijayan.
The chief minister was addressing the crowd in an event organized to celebrate the second year of the Pinarayi-led government in Kerala.