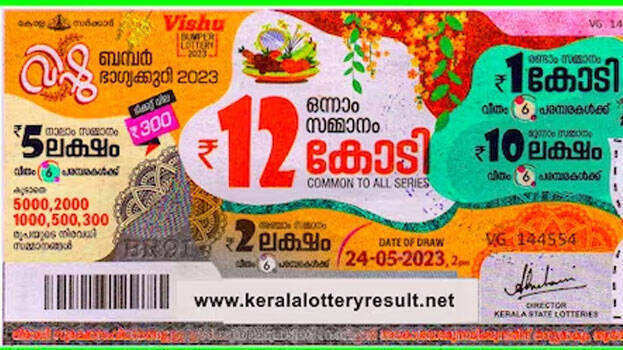 THIRUVANANTHAPURAM: The Kerala State Lotteries Department has announced the Vishu Bumper lottery results. The draw was held at Gorkhy Bhavan in Thiruvananthapuram. The first prize of Vishu lottery has been awarded to ticket number VE 475588. The ticket was taken from CKV Lottery Agency in Malappuram. The second prize was awarded to ticket numbers VA 513003, VB 678985, VC 743934, VD 175757, VE 797565 and VG 642218.

Tickets VA 214064 VB 770679 VC 584088 VD 265117 VE 244099 VG 412997 won the third prize. The fourth prize was won for ticket numbers VA 714724 VB 570166 VC 271986 VD 533093 VE 453921 VG 572542. The numbers VA 359107 VB 125025 VC 704607 VD 261086 VE 262870 VG 262310 won the fifth prize.
The amount for first prize is Rs 12 crore. It was 10 crore last time. Six people will get the second prize of Rs 1 crore each. The third prize of Rs 10 lakh will be awarded to six each. Rs 5 lakh if for the fourth prize and Rs 2 lakh for fifth prize.