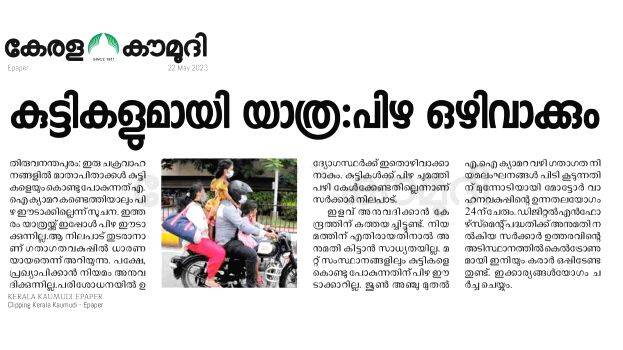 Technical committee to evaluate the functioning of the cameras
THIRUVANANTHAPURAM: The Transport Department has decided not to charge a fine if a child is traveling along with two adults on a two-wheeler. The withdrawal comes as it is realized that fines for traveling with children will lead to public outrage since the corruption allegations are creating controversies.
A letter was sent to the central government seeking exemption for carrying a child below 12 years of age in two-wheelers in addition to 2 adults. The high-level meeting decided not to impose fines for traveling with children until a decision is made. On the 22nd, 'Kerala Kaumudi' had reported that even if the AI ​​camera detects that if a child is traveling with 2 adults on two-wheelers, no fine will be charged.
Meanwhile, the meeting decided to levy fines for other traffic violations from the 5th of next month. The Additional Transport Commissioner has been asked to form a technical committee and submit a report on the functioning of the cameras before that. The technical committee is being formed because none of the cameras installed in Kerala by Keltron have been inspected and certified by the authorized authorities. Permission has also been given to seek the help of external approved agencies in this regard.
If the challan is to be sent by detecting the violation through electronic devices, the authorized agency should verify the functioning of these devices and issue a certificate. The certificate must be renewed every year. Otherwise, the vehicle owners can question the legality of the notice upon receipt. This step is to avoid this crisis.
"Repetitive fines" for an Offense
MVD has not backed down from its decision to levy fines multiple times if more than one camera detects the same violation. Currently, a violation is fined only once a day. Police and MVD departments will issue a receipt when fines are levied for not wearing helmets during roadside inspections. If there is an inspection at the next point as well, you will be allowed to go if you show the fine payment receipt.
"Traffic violations have halved since the cameras were installed. By the time fines are levied, more people will follow the law"
- Antony Raju, Transport Minister