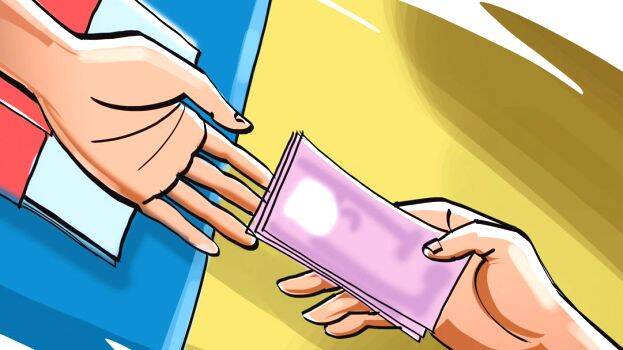 THIRUVANANTHAPURAM: People are in a situation where they have to pay bribes for any service in government departments. Vigilance has caught 26 officials in 23 bribery cases so far this year. Most of them are in the revenue department. Some who have made bribery a lifestyle devalue other officials who work decently.
Ajikumar, Thrissur Venkitang Village Field Assistant, was arrested for accepting a bribe of Rs 1000 for ownership certificate and sketch. SI Nizar of Kottayam Gandhinagar station was arrested while taking Rs 2000 and one litre of foreign liquor to release the accident vehicle. Idukki Taluk Tehsildar Jayesh Cherian was arrested for taking bribe of Rs 10000 for issuing income certificate, Idukki Manjoor Panchayat Assistant Engineer Ajith Kumar was arrested for taking Rs 20000 for giving a building permit, and Malappuram District Crime Branch SI Suhail was busted for taking a bribe of Rs 50,000 in a warrant case. Doctor Rajan of Chertala taluk hospital demanded Rs 2500 for abortion surgery, Thodupuzha Forest Range Officer Libin John took Rs 1 lakh to get rid of the case, Thrissur Kayipamangalam Panchayat VEO Vishnu took a bribe of Rs 1000 to allow aid in repairing the house, Malappuram Edarikkad village field assistant Chandran took Rs 400 to give a pattayam and Dr Pradeep Kosi and Veena, doctors of Chavakkad taluk hospital, were arrested for taking Rs 5000 for surgery.
Other arrested- Dr Jisha K James of Kottayam Panachikkad Veterinary Hospital took Rs 1,000 for post-mortem of a dead buffalo, Thiruvalla Municipal Secretary Narayanan for taking Rs 1 lakh to avoid cancellation of waste management contract, Office Assistant Haseena Begum, Health Inspector Shaji Mathew of Palakkad Koduvayur Panchayat for taking Rs 13,500 to issue health card, 2000 for measuring the property. Manoj Lal, surveyor of Punalur Taluk Survey Office, Ernakulam Puthanvelikara Krishi Assistant Prajil, who took Rs 5000 for land type conversion, and Thrissur Kuttchira Special Village Officer Varghese, who took Rs 1000 for property mutation, were also caught.