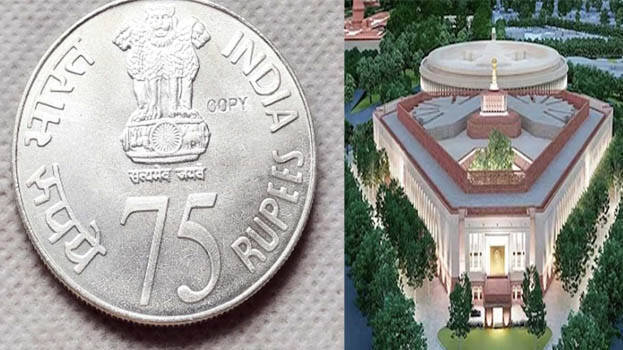 NEW DELHI: The Centre has decided to launch a special Rs 75 coin to commemorate the 75th year of Indian Independence. Prime Minister Narendra Modi will launch the special coin during the inauguration of the new Parliament building on Sunday.
The front side of the coin will feature Lion Capital of the Ashoka Pillar with 'Satyamev Jayate' written below it. On the left side 'Bharat' will be written in Devanagari script while on the right side, India will be written in English. It will also feature the symbol of the Rupee and 75 written in international numerals. The back side of the coin will feature an image of the Parliament complex.
On the upper periphery of the coin, Sansad Sankul will be written while Parliament complex in English on the lower periphery. Below Sansad Sankul, the year '2023' will be inscribed in international numerals. The 35-gram coin will be circular in shape with a 44 mm diametre.
It is reported that around 25 parties will participate in the inauguration of the Parliament on Sunday. Meanwhile, various parties including Congress, Trinamool Congress, AAP and Samajwadi Party will boycott the function. Opposition parties demand that President Draupadi Murmu should inaugurate the Parliament instead of the Prime Minister.