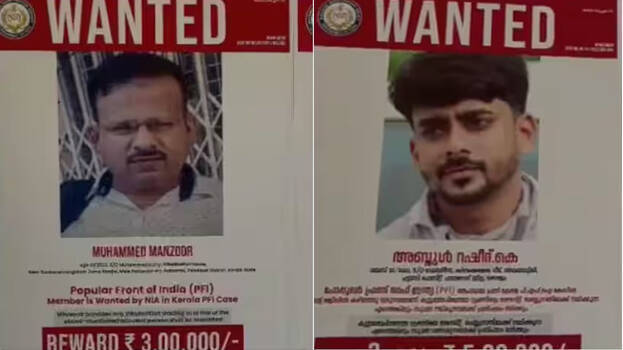 PALAKKAD: The National Investigation Agency (NIA) has announced a reward to those who provide the information required to nab a set of workers of the banned organisation Popular Front of India (PFI). The agency has put up a poster in Vallapuzha panchayat in Palakkad to find the PFI activists who could not be nabbed after the organisation was banned. The poster contains the details of the PFI activists and the reward amount. As per the poster, a reward between three to seven lakhs will be given to those who provide information about the activists. It is reported that the poster appeared five days ago.
The NIA has sought help to trace Kootanadu native Shahul Hameed, Nhangattiri native Abdul Rasheed K, Sankaramangalam native Muhammad Mansoor, Nellayi native Muhammad Ali KP, Paravoor native Abdul Wahab PA and another unnamed activist. The poster contains the picture of the activists and the reward amount along with the contact number and email to contact the NIA.
At the same time, the NIA said that three persons, who were planning attacks in different parts of the country, were arrested during the search conducted in different parts of Madhya Pradesh.