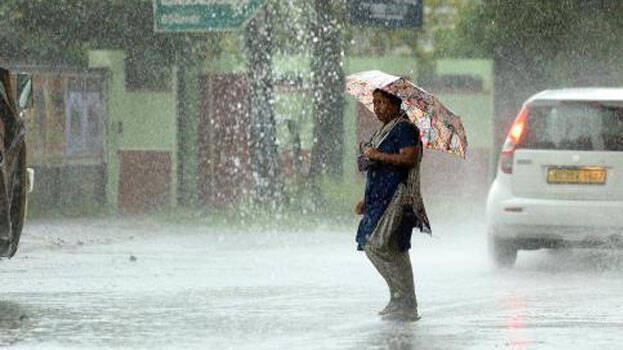 THIRUVANANTHAPURAM: The India Meteorological Department has informed that there is a possibility of moderate rain with thunder and lightning at isolated places in Thiruvananthapuram, Pathanamthitta, Ernakulam, Palakkad and Kannur in the next three hours and strong winds with a speed of up to 40 km per hour.
Rain forecast for next five days
Rains are likely to lash Pathanamthitta, Ernakulam and Idukki today and Alappuzha, Kottayam, Idukki and Ernakulam tomorrow. Rains are predicted in Pathanamthitta and Idukki on Wednesday and Pathanamthitta and Idukki on June 1.
Central Meteorological Department has announced yellow alert in the districts. Chance of isolated heavy rain is forecast. Heavy rains mean rainfall of 64.5 mm to 115.5 mm in 24 hours.
Fishermen alerted
The Central Meteorological Department has informed that people should not go fishing in Kerala-Karnataka-Lakshadweep coasts today. Strong winds with speed of 40 to 45 kmph at occasional gusts up to 55 kmph and bad weather are likely over Kerala-Karnataka-Lakshadweep coasts today.
Special warning
There is a chance of strong winds and bad weather over Kanyakumari coast and Maldives area with speed up to 40 to 45 kmph and at some occasions up to 55 kmph today.
From 31-05-2023 to 01-06-2023: Chance of strong winds and bad weather conditions over South Tamil Nadu coast, Kanyakumari coast and adjoining Sri Lankan coast of Gulf of Mannar with a speed of 45 to 55 kmph and occasional up to 65 kmph.

Fishing is not allowed on these days.
High wave warning
The National Center for Oceanography and Oceanography (INCOIS) has informed that there is a possibility of 0.8m to 1.3m high wave and storm surge along the Kerala coast till 29.05.2023 at 11.30 pm, with a wind speed varying between 30cm and 70cm per second.
Fishermen and coastal residents beware
1. As the rough seas are likely to intensify, stay away from the danger areas as per the instructions of the authorities.

2. Keep fishing vessels safely moored in the harbor. Keeping a safe distance between boats can avoid the risk of collision. Safety of fishing equipment should be ensured.

3. Avoid trips to the beach and fun at sea altogether.