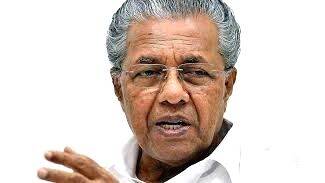 THIRUVANANTHAPURAM: Chief Minister Pinarayi Vijayan said that the UDF, which did not respond when the central government was squeezing Kerala economically, was indirectly supporting it. He was inaugurating the concluding general meeting of the NGO Union Diamond Jubilee at Putharikandam Maidanam.
The approach of the Centre is that it will not allow Kerala to move forward even an inch. What is this other than blocking the development of the state? A comment was heard yesterday, that there are no comments now. If you don't comment despite such a severe situation, then when will you? This was said by the opposition leader in Kerala. Union Minister Muraleedharan says that Kerala has been given everything it needs. The future of the state is the future of the people. What is the obstacle to standing unitedly against this problem, seeing it as a common problem of the state?

According to the Centre's estimate, Rs 33,420 crore can be borrowed, but now they say that only Rs 15,390 crore can be borrowed. There is no explanation as to how this astonishing figure was arrived at. In the past, the state government would have been informed. Let us know if there is a difference of opinion. However, the only one who gave some figures here is one of our ministers. He also does not say where he got this figure from. Can a Union Minister give a false account by holding a press conference?
Of the Rs 12,000 crore loan taken by the company for pension distribution, the government has repaid more than Rs 10,000 crore, but the Center says that Rs 12,000 crore was borrowed. Shouldn't they say the right figures? How can it be a loan, when the government pays back the money to the company that has fulfilled its duty of paying the social pension properly?
Those who had no part in the freedom struggle are trying to make the country a religious state. The inauguration ceremony of the Parliament building, which should stand as the pinnacle of secularism, was turned into a venue for the religious ceremonies of a sect. An attempt is being made to subvert all the constitutional arrangements. Central government supports those who commit violence against religious minorities. One cannot be a mere observer and take a neutral stand when Sangh Parivar is trying to convey the message that the country does not need secularism, Chief Minister said.
NGO Union President MV Sasidharan presided. Ministers K Rajan, K Krishnankutty, Antony Raju, MLAs VK Prashanth, Kadnapally Ramachandran, Union General Secretary MA Ajith Kumar and others were present.