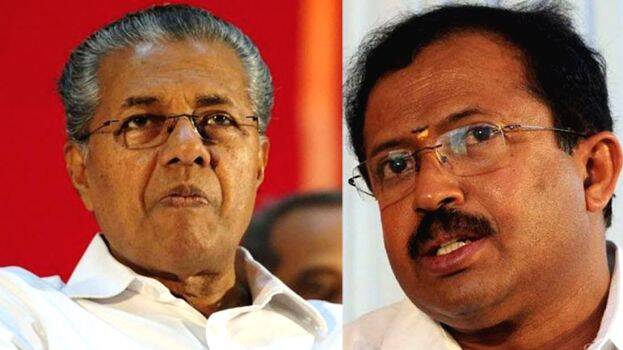 THIRUVANANTHAPURAM: The state government is in a crisis of not being able to find Rs 1000 crore every month with the central government cutting the borrowing limit.
The details of the loan limit were not communicated to the state government. Later Union Minister of State V. Muraleedharan disclosed those matters. The state government has taken these matters seriously.
Yesterday Chief Minister Pinarayi Vijayan called a high-level meeting in the financial sector and suggested to find a way to overcome the crisis by any means. The meeting discussed the possibilities of increasing revenue and about shortcomings in financial management.
The Chief Minister directed to collect the details regarding the loan limit from the Centre at the official level and to keep him updated.
The government needs Rs 14,000 crore to survive a month, including salaries, pensions and other expenses. The state will receive Rs 7100 crore as tax and non-tax revenue and Rs 4000 crore as central tax share. The loan limit per month is Rs 1500 crore. The remaining Rs 1000 crore has to be found every month.
In addition to this, there is a financial liability due to the retirement of around ten thousand government employees. Around Rs 1500 crore is needed to pay them..
Welfare pensions have not been paid for three months. The government finds relief in loans, which is now capped by the Centre.
The Centre did not give details, it was released by the Union Minister
The Centre informs the state government about loan limits and details about it. But this time Union Minister of State for External Affairs V. Muralidharan held a press conference and released the information. The Chief Minister termed it as an extraordinary incident. Yesterday, the Chief Minister convened an emergency high-level meeting to determine whether the issue is technical or political.
If the goal is politics, the Chief Minister is of the position that it can be dealt with that way. Finance Minister KN Balagopal also said that the Union Minister's action is a violation of constitutional dignity and subordination.
Two letters

1. In the letter received on March 27, it was informed that the gross domestic product of the state has been approved at Rs.10.81 lakh crore and three per cent of which Rs.32440 crore can be borrowed this year.
2. In the letter received on May 26, it was informed that Rs.15390 crores have been allocated this year and Rs.2000 crores taken in April will be reduced from this as per the provisional sanction.
(Disclosed by Bishwanath Sinha, Ad.Chief Secretary, Finance Department)