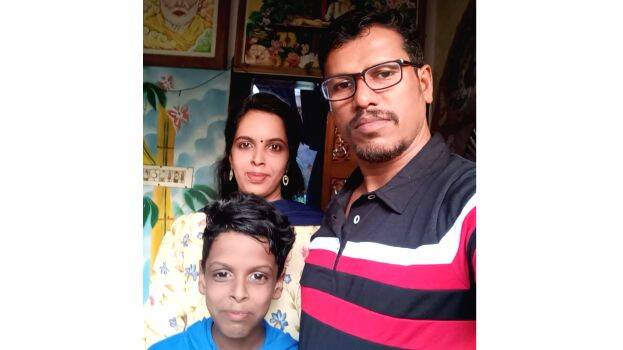 THODIYOOR: An art teacher and his family has won 31 world records by drawing with feet, nose, tongue, and chin. Anivarnam, principal of Varnam Chitrarekha School of Arts and art teacher at Karunagappally Lodz Public School, his wife Sumita, and their son Abhimanyu are the owners of the proud achievements.
Ani turned to experimenting with different styles of painting due to his insatiable interest in painting. Pictures were drawn with feet, nose, tongue and chin, all of which attracted attention. His wife and son were also trained in these methods. World records started coming to the family once they also chose that path.
Ani started drawing pictures on the wall with charcoal and green leaves with movie posters as a reference since class 4. N Rajendran, an art teacher at Karunagappally Boys High School, is the one who tutored and nurtured the painter in Ani.
Ani has received three national awards and one state award. He has won five URF World Records, four Asian World Records, four British World Records, two American World Records, Indian Book of Records, Champions Book of Records, and Bravo International Book of Records as well.
Wife and son are champions too
Ani's wife Sumita, a Hindi teacher at Karunagapally Andulus Public School, has won URF, Asian, American and British Book of Records for her drawings using tongue and nose.
Their ten-year-old son Abhimanyu has won seven world records. Abhimanyu used his nose and chin as tools. Abhimanyu's achievements are the URF World Record, Asian World Record, American World Record, British Book of Record, etc.