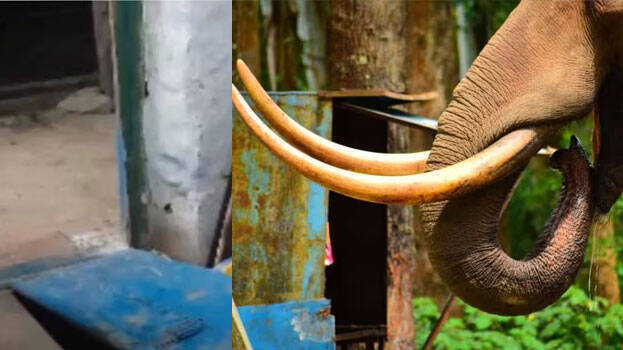 IDUKKI: Padayappa on the rampage again in Munnar. The tusker attacked the ration shop of Unnimary of Chokkanad Estate. There were no other damages other than breaking open the door of the shop.

Padayappa kicked open the door of the shop last night. Unnimary said the tusker had tried to demolish this ration shop 19 times before. The nuisance of wild tuskers is on the rise in the region. It is believed that Padayappa was in the inhabited area including Chokkanad for the past few days. Padayappa had also reached the garbage plant in Kallar earlier. The elephant was then missing for more than two weeks and now appeared in the residential area.
Meantime, an elephant named Mangakomban was seen in Attappadi Chittoor Minerva. The elephant was seen near the house of Suresh and immediately informed the officials of the forest department. Mangakomban is regularly seen in Attappadi Minerva area. The elephant got the name Mangakombana as it constantly plucks mangoes.
Though the locals shouted and burst crackers to chase the elephant seen early morning, it is still in the area. The tusker which usually enters the residential area early morning, returns later in the day through the river. However, sources said that it has not left the area.