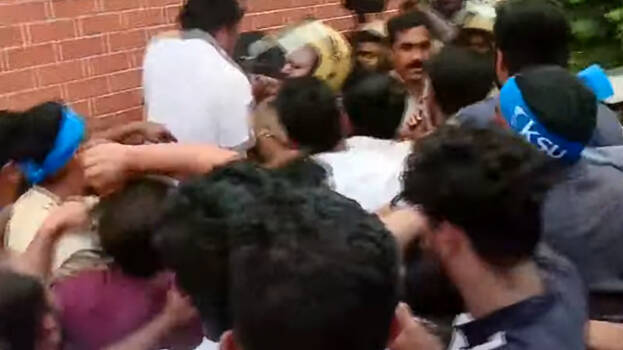 KOCHI: A protest march led by KSU activists toward the Sree Sankaracharya University of Sanskrit in Kalady descended into violence. The KSU organised the march alleging that reservation norms were violated for Vidya Vijayan. There was an altercation between the police and KSU activists.
The KSU activists marched towards the University under the leadership of the Ernakulam District Committee. The police intervened when the activists attempted to overturn the barricades kept in front of the University. This led to an altercation between the police and the KSU activists. The altercation eventually escalated into a clash.
Following this, the KSU activists protested by besieging the road. As per the notification issued by Kalady University inviting applications for Ph.D. admission, there were 10 vacant seats. However, 15 people, including Vidya, were given admission by overlooking this.
Meanwhile, the Agali police have started an investigation into the fake document case. The investigation was launched on the complaint of the Principal of the Attappady Government College. Agali police arrived at the college and collected evidence.