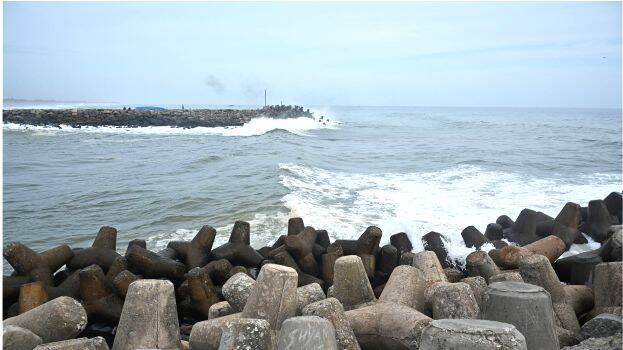 A panel of experts from New Delhi will reach out soon in the estuary of Muthalapozhi. Last Monday, a boat carrying fishermen capsized near the same spot killing four. Muthalopozhi over the years has earned an ill repute for its recurring tragedies that are still mysterious in all aspects.
It was in 2006 that Pulimutt, a long stretched walkway towards the sea was built to save the lives of fishermen tribes often encountering havoc near the region. Contrary to their expectations, the Pulimutt turned out to be a devil's pathway, taking away 70 lives over a year.
The tribe of fishermen lives a penury-stricken life though they remain modest in their approach. They leave behind all predicaments of life, expecting a big catch in the sea and in high hopes of leading a happy life. However, what they encounter is repeated accidents, death, and injuries, while the government is not yet ready to mind their sufferings. This was what transpired when two ministers visited Muthalpozhi; the emotions flared up and the people reacted. For all these years, the government shrewdly denied answers for the people in this coastal belt and it was only now in this tense air of death that they decided to reach the shore with a consoling act.
Years before, the government appointed an expert panel to study the anomaly surrounding the estuary. People's statements were taken and the panel prepared a deep report replete with recommendations and suggestions. Making a wide guess, it would not be that bad to say the same report is still somewhere stuck in the dingy quarters of the secretariat; shrouded in dust of all things. This is the fate of all such reports and it elicits no wonder this coming from the inept lots in government. And then, the government will try a face-saving act when elections approach the corner. During this time, to allay tensions, the government will go for a temporary fix in the coastal belt rather than deeply bringing in scientific alternatives that are proven to be prudent.
As of now, the center governments fisheries department is sending an expert panel to Kerala's feared estuary of Muthalapozhi. The study and the later report submission may take months to formulate. For the state government, they can leave behind the lax to alleviate tensions among the fisherman people, not waiting for the center government's report. The earlier report suggestions can be studied and discussed. The length of the Pulimutt can be increased. A sea wharf can also be built in this region. The sand collected near the shore region should be removed to help thwart danger to fishermen people. All this can be effectively managed if the government gives its true willingness. Time is acute for the government to react or else the response from the coastal tribes will be too hard for the echelons in power to digest.