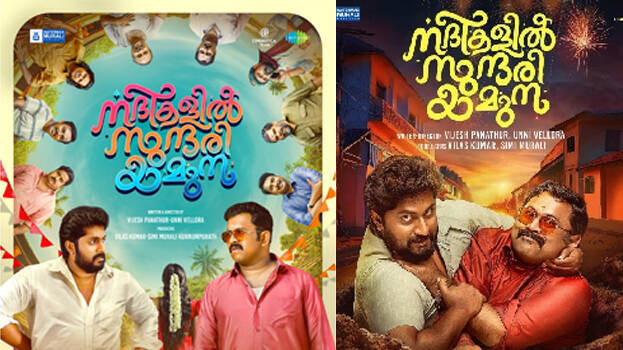 The release date of 'Nadhikalil Sundari Yamuna', starring Dhyan Sreenivasan, has been announced. The film will hit the theatres on September 15.
Produced by Vilas Kumar and Simi Murali under the banner of Cinematica Films LLP, the film is written and directed by newcomers Vijesh Panathur and Unni Vellara. HR OTT, a leading OTT company, has acquired the OTT rights of the film after its theatrical release.
The film is set in the backdrop of the villages of Kannur. The film tells the story of two young men, Kannan and Vidyadharan. Dhyan Sreenivasan plays Kannan and Aju Varghese plays Vidyadharan. Sudheesh, Nirmal Palazhi, Kalabhavan Shajon, Nawaz Vallikkunnu, Aneesh, Parvana, Amy, Unniraja, Bhanu Payyannur, Devaraj Kozhikode, Rajesh Azhikodan, Sohan Seenulal, Sarath Lal, Kiran Mesh and Vismaya Sasikumar are the other actors in the film.
Lyrics are penned by Manu Manjith and Harinarayan. Music is composed by Arun Muraleedharan. Shankar Sharma has done the background score. 'Saregama' owns the music rights.