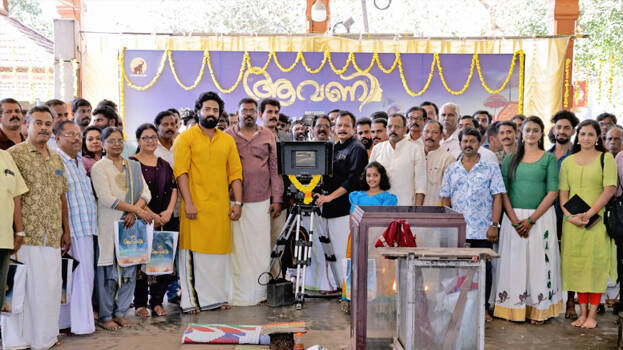 Set against a rustic backdrop, the love triangle film Avani started in Ochira Parabrahma Temple. P G Sasikumara Varma (Former King's Representative and President of Pandalam Palace Trust) lit the first candle and performed the switch on ceremony. Tiruchendur Yagasamrat Brahmashree N Venkateswara Iyer did the first clap.
Brahmasree M S Sriraj Krishnan Potti (National Chairman, Akhila Tantri Pracharak Sabha) and J Vikramanswamy Kurianvilla (Sri Bhagavathy Mudipura Kshetracharya, Parassala) graced the function with their presence. Soorajson, Abhirami Girish, Devan, T G Ravi, Jayashankar, Shailaja and others are joined by newcomers and celebrities. The location of the film is Balussery, Kozhikode and surrounding areas.
Banner - Devdas Films, Director - Rajamohan, Production - Kalayam Suresh, Screenplay - Mithal Puthanveed, Cinematography - Lal Kannan, Editing - Ananthu Vijay, Production Controller - Jayashilan Sadanandan, Lyrics - MR Jayageetha, Rajan Karthikapalli, Kalayam Suresh, Unni Kulamada, Music - Binoj Binoi, Vocals - KS Chitra, Najim Arshad, Vinita, Seethalakshmi, Art - Arkan S Karma, Chief Associate Director - Pradeep Kadayangad, Makeup - Pradeep Vithura, Costum - Arvind KR, Associate Director - Boban Govindan, Finance Controller - Sunny Daghuthala, Choreography - Revathi Chennai, Designs - Manu DaVinci, Stills - Ajesh Avani, PR - Ajay Tundathi.