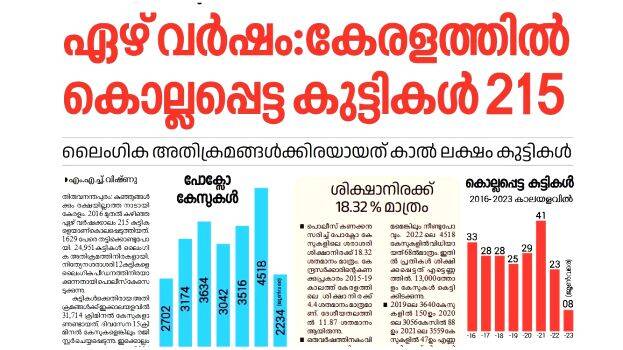 THIRUVANANTHAPURAM: Most of the cases of child abuse are being ignored without serious investigation. A good number of cases end without evidence. Even though there are laws that can lead to even a death penalty, in most cases, the police do not carry out even the procedure of collection of evidence. There are situations where a compromise deal is made with the accused, and where the police intervene and sabotage the case.
In seven-and-a-half years, 31,714 criminal cases and 24,951 POCSO cases have been registered regarding violence against children. In Kerala, the accused are convicted in only 18.32 percent of POCSO cases.
There are also instances where the police have saved the accused by imposing weak sections in cases with evidence and scientific reports. From 2013 to 2018, out of 1255 cases, the accused were convicted in only 230 cases. Out of 3042 cases in 2020, the accused were convicted in 47 cases. Out of 4518 cases in 2022, the court verdict was given in only 68 of which the accused were convicted in only eight.
Police had threatened people to change their statement in Kizhakkambalam gang rape case. There was a move to sabotage the Wadakkancherry rape case and leak the statement. In the Pathanamthitta case of five men gang-raping a differently-abled woman, the sabotage was attempted by the CI. Locals had prevented the police from bringing the girl and her grandmother to the station to record their statement. In Kochi, there was sabotage in the case of molestation of minor girls under the guise of Satan worship.
There was a complaint that the police forced the accused to give a favourable statement before the magistrate and tried to make it appear that the child was mentally ill. Police had tried to write off the cases of molestation of two sisters in Malappuram Mankada and a 12-year-old girl from Areekode.
How a case is wrapped up
Attempts will be made to settle the complaint without registering a case
The complainants will be called to the station to record their statements and they will be tortured mentally.
The case will be weakened by documenting that the victim refused to undergo medical examination.
Punishment up to death
The POCSO Act to prevent sexual crimes against children carries a minimum sentence of 3 years to life imprisonment and the death penalty if the victim dies. The law states that the trial and conviction must be completed within one year.
Awareness in the curriculum
Awareness about violence against children will be in the school curriculum from next academic year. It will be part of the curriculum for classes 1,3,5,6,8,9 next year and for classes 2,4,7,10 in 2025–26. This is according to the order of the High Court.
Cases of violence against children
2016--------2879
2017--------3562
2018--------4253
2019--------4754
2020--------3941
2021--------4536
2022--------5315
2023--------2474
(Until June)