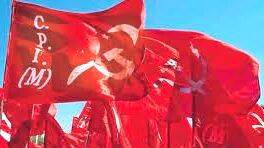 ALAPPUZHA: The CPM district leadership is making hasty efforts to persuade the leaders who left the party in Kuttanad. The district secretariat members H Salam, Manu C Pulikkal, K H Babujan, B Rajamma and G Harishankar met senior leaders and made the move.
Three people including two area committee members were expelled from the party the other day due to the developments that led to the mass resignation of around 222 people who raised the flag of revolt against the area leadership. The members of the secretariat visited the houses of the leaders in Ramankari, Kavalam and Thalavadi areas to explain the action taken against them to those who left the party.
It is known that the leaders, who came to the houses exploded against the one-sided positions of the area leadership and the district leadership that supports it.
Area committee members A S Ajith, B K Kujunmon and former area committee member Udayan were expelled from the party on the charge of leading sectarian activities but did not dare to take action against others including area committee member and panchayat president Rajendra Kumar who publicly reacted against the leadership. It is believed that this is a strategy to prevent sectarianism in the party from affecting the panchayat administration.
Although the CPI leadership has announced that membership has been given to all those who have left the CPM, they are not ready for publicity programs including. The CPI leaders say that no such campaign was conducted because of the time when the Puthupally by-elections were held.
As part of the campaign against the central government, there is a possibility that those who have accepted membership from CPM will also participate in the walking campaign march that will be started in the district under the leadership of CPI. It is known that the CPM district leadership is also planning to give an answer to those who left the party through a political briefing meeting organized against the central government in Kuttanad on the 16th.