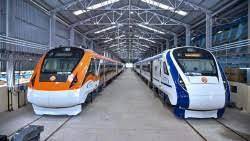 NEW DELHI: After the success of Vande Bharat Express, the Railways is all set to launch Vande Metro and Vande Sleeper versions of the same range next year. Vande Metro will be launched by January 2024 and Vande Bharat Express Sleeper coaches by March 2024. Vande Metro is being developed with 12 coaches.
The coaches for these are manufactured at the Integral Coach Factory in Chennai. Designed for long-distance travel, the Vande Bharat sleeper is capable of running at a speed of 220 kmph. In the future, these will replace Rajdhani trains. The Vande Bharat chair car version will gradually replace the Shatabdi trains.
In the first phase, the Delhi-Mumbai and Delhi-Kolkata tracks, signal system and bridges on the routes will be repaired to run Vande Bharat Sleeper trains. Both sides of the tracks will be walled.