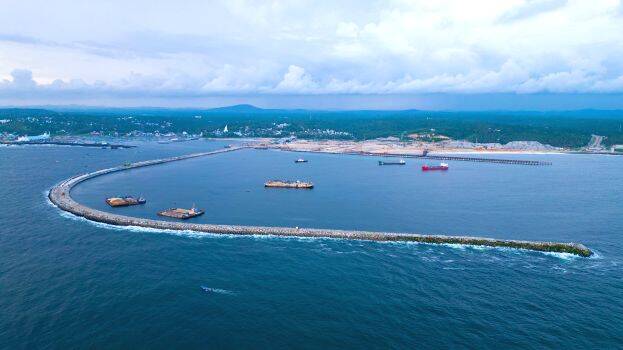 THIRUVANANTHAPURAM: With only eight months left for the realization of the first phase of the Vizhinjam International Port, which is set to give a huge boost to the development of Kerala, Chief Minister Pinarayi Vijayan released the official name and logo of the port.
If construction continues as it is now, the first phase will be completed by May. After that, cargo ships will start arriving. Two motherships can be docked at once. As the other phases are completed, five will be added. The construction is done in four stages.
The first ship will arrive from China on October 4 with huge cranes needed for the port. and the second on October 28. Other ships will arrive with cranes on November 11 and 14.
Vizhinjam is the first transhipment port in the country. It is the only port in the country that is closest to the international shipping lane. The distance to the international shipping lane is only 18 km. A transhipment port is where cargo arriving at motherships is transferred to and from smaller vessels for onward service.
Once operational, the commercial and industrial sector of the state will get a huge boost. Adani started the construction of Vizhinjam Port Pvt Ltd on 5th December 2015. The aim was to complete it within 1000 days. Due to Covid and bad weather, it was delayed.

Completed so far:
80% in the first stage. 400m of 800m berth. 2400 of the 2960 m breakwater
Container yard, port operation building, substation and security building on seven hectares
Five out of 13 buildings. Eight are under construction
80% completion of the perimeter wall, crane beam and the road connecting National Highway
Seven super post panamax cranes to be installed for loading and unloading of containers
30 rail-mounted gantry crane for loading and unloading in the yard
The cost of cranes is 1500 crores
The length of the berth will be 1200 meters in the second phase, 1600 meters in the third phase and 2000 meters in the fourth phase.
Rs 7,550 crore for the total construction
Name and logo
The port will be officially known as 'Vizhinjam International Seaport Thiruvananthapuram'. The logo is the English letter 'V' looks like a ship and stands for Vizhinjam.
Minister P Rajeev inaugurated the port's website and social media channel.