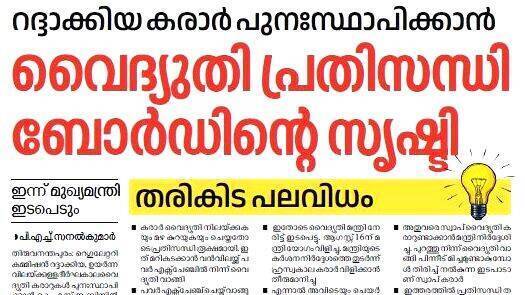 THIRUVANANTHAPURAM: The Electricity Regulatory Commission has released an explanatory note in which it explicitly blames KSEB for the power crisis in the state. The Commission stated this by rejecting KSEB's stand that the crisis was caused by the Commission's cancellation of long-term contracts to purchase electricity at a low price. The Commission's clarification comes at a time when the KSEB has been pressuring the government to force the Commission to restore the contracts. It is learned that KSEB has filed a complaint with the Union Power Ministry and the state government against the Regulatory Commission which canceled the contracts.
The Commission openly stated that the crisis was not caused by the cancellation of long-term contracts and that KSEB's action of continuing the irregular long-term contract was wrong. Termination of the contract was not a sudden action. The board had time to take precautions. In lieu of the canceled contract, the board was allowed to purchase 500 MW of electricity for five years. However, KSEB is only starting the process for this.
At present, the board is purchasing electricity from outside at exorbitant prices without a contract in the name of the power crisis. There is an additional expense of Rs 8 to 14 crores per day. Following the crisis, when the tenders were invited for the interim contract, the tenders were received for double the price of the earlier purchase. People will have to bear the brunt of all this in the form of rate hikes and cess.
Kerala Kaumudi had published a report against KSEB's move to restore controversial long-term contracts under the guise of a power crisis. Now, the Electricity Regulatory Commission has also upheld it.
The KSEB had urged the government to exercise discretion to restore the contracts by pointing out that the cancellation of the contracts left the state in a dire power crisis. A high-level committee led by the Chief Secretary has also prepared a favorable report for this.