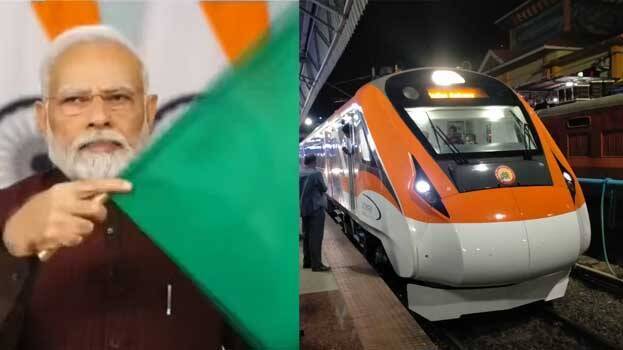 KASARAGOD: Prime Minister Narendra Modi inaugurated Kerala's second Vande Bharat train. The inauguration took place at 1.05 pm via video conferencing. Union Railway Minister Ashwini Vaishnav also participated in the event through video conferencing. Alongside Kerala, the Prime Minister also launched Vande Bharat services in eight other states across the country. The inauguration ceremony was held at Kasaragod railway station. All stations from Kasaragod to Thiruvananthapuram also provided a warm reception for the 2nd Vande Bharat train which exclusively operates within Kerala.
During the inauguration, the Prime Minister stated that Vande Bharat symbolizes the renewed enthusiasm and energy of New India. He expressed his belief that it won't be long before Vande Bharat connects the entire nation. He cited the success of the G20 summit as an example of India's strength in terms of democracy, demography and diversity. The Prime Minister was delighted that the Railways had begun celebrating the birthdays of railway stations.
Advance ticket bookings for the second Vande Bharat commenced yesterday. Regular services will start from Thiruvananthapuram on Tuesdays and from Kasaragod on Wednesdays. The Kasaragod-Thiruvananthapuram Vande Bharat Express service will operate with eight coaches running from Kasaragod to Thiruvananthapuram via Alappuzha. The train will run on all days except Tuesdays. The Thiruvananthapuram-Kasaragod service of this train will not run on Mondays.
Kerala has been assigned a saffron-coloured train as the second Vande Bharat. Vande Bharat Train (No. 20631) will depart from Kasaragod Railway Station at 7 am and reach Thiruvananthapuram at 3.05 pm with a travel time of eight hours and five minutes. Train No. 20632, the Thiruvananthapuram-Kasaragod Vande Bharat Express will leave Thiruvananthapuram at 4.05 pm and reach Kasaragod at 11.58 pm with a travel time of 7 hours and 55 minutes.
The first Vande Bharat service in the state was launched in April. With this addition, Kerala now has Vande Bharat services in two colours offering connectivity from the southern to northern parts of the state in both morning and evening. There's a service from Thiruvananthapuram to Kasaragod at 5.20 am and from Kasaragod to Thiruvananthapuram at 7 am. Similarly, there's a service from Kasaragod to Thiruvananthapuram at 2.30 pm and from Thiruvananthapuram to Kasaragod at 4.05 pm. This significantly alleviates travel concerns within the state. One Vande Bharat route is via Kottayam while the second train travels via Alappuzha.