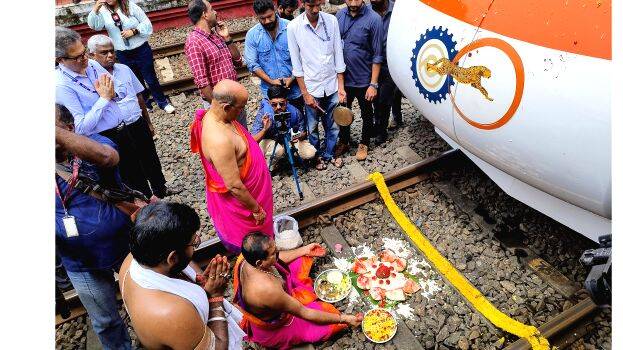 NEW DELHI: Alluding to the rampant growth of 'New India', Prime Minister Narendra Modi on Sunday inaugurated 9 new Vande Bharat trains through video conferencing. This also includes the elite Vande Bharat train that will service between Kasaragod to Thiruvananthapuram via Alappuzha.
Apart from Kerala, the newly introduced Vande Bharat trains will connect 11 states including Rajasthan, Tamil Nadu, Telangana, Andhra Pradesh, Karnataka, Bihar, West Bengal, Odisha, Jharkhand, and Gujarat. According to PM Modi, the states should show development at a fast pace for the people to relish in better living conditions. PM Modi also hinted about his mission to make India a superpower by 2047.
"The day is not far when Vande Bharat will connect all parts of the country". PM Modi said that tourism along with economic activities have spiked in places linked by Vande Bharat.
Other Vande Bharat Expresses that started yesterday are Udaipur - Jaipur, Tirunelveli-Madurai-Chennai, Hyderabad - Bengaluru, Vijayawada - Chennai (via Renigunta), Patna - Howrah, Rourkela - Bhubaneswar - Puri, Ranchi - Howrah and Jamnagar - Ahmedabad.
The trains allocated to Kerala and Rourkela - Bhubaneswar - Puri Vande Bharat Express are the fastest ones among the introduced. These trains will run three hours faster than other trains covering the same route. Rourkela-Bhubaneshwar - Puri Vande Bharat Express and Tirunelveli-Madura-Chennai Vande Bharat Express will connect the major pilgrimage cities of Puri and Madurai.
The Vijayawada – Chennai Vande Bharat Express, operated via Renigunta, also provides connectivity to the holy Tirupati temple.