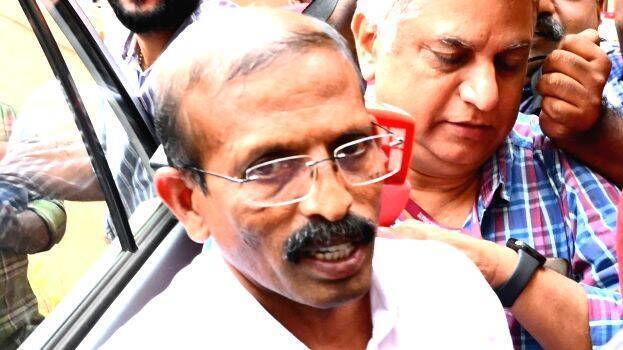 KOCHI: Enforcement Directorate (ID) has stated that, in addition to Wadakanchery Municipality Standing Committee Chairman (Health) and CPM Athani Local Committee member PR Aravindakshan, senior political leaders close to him are also involved in the Karuvannur cooperative bank benami-black money transaction case.
Yesterday, the court remanded Aravindakshan and CK Jills, who was the former accountant of Karuvannur Bank. The high-level influence was clarified in the report submitted by ED to the court.
Aravindakshan is the first leader to be arrested in the case. Aravindakshan was taken into custody at his house in Wadakanchery Parlikad yesterday afternoon. Jills was arrested after being summoned and interrogated. The Kaloor court, which deals with Prohibition of Money Laundering (PMLA) cases, will consider the ED's request to remand them for two days today.
The leader's arrest has put the CPM on the defensive. The leadership is worried that ED will take action against other leaders as well. ED had questioned former minister AC Moideen MLA, state committee member MK Kannan and corporation councillor Anoop Davis Kada. According to the remand report, Arvindakshan has deposits of Rs 50 lakh and benami properties.
Evidence against Aravindakshan
Statements were obtained from several persons, including the second accused and intermediary PP Kiran, who is on remand, regarding Aravindakshan's role in the scam. A huge amount has been transferred from the account of the first accused and middleman P Satish Kumar and his brother P Sreejith who are on remand to Aravindakshan's account.
Conversations with Aravindakshan were obtained from the phone seized from Satish Kumar. Aravindakshan withheld information during interrogation. He refused to provide documents including income tax returns. Only one bank account and a property in his mother's name were revealed. Satish Kumar has done many benami transactions and property transactions through Aravindakshan.
ED found accounts in Peringandur Cooperative Bank and Dhanalakshmi Bank. In the years 2015, 2016 and 2017, a large number of transactions have been done through the accounts. Although it was informed that the savings are the honorarium received as a councillor, transactions of Rs. 50 lakhs have been made.
Aravindakshan has connections with bigwigs including top leaders. Aravindakshan knows about the beneficiaries of the scam. It is clear that Rs 50 lakh was obtained through the fraud committed by Satish Kumar. According to the report, this is an offence punishable under the Prevention of Money Laundering Act.
5.06 crores scammed by Jills
CK Jills has siphoned loans worth Rs 5.06 crore in his own and benami names. Jills has only a C-class membership. The mortgaged property was also sold. According to the report, Jills refused to give information about the scam during interrogation.