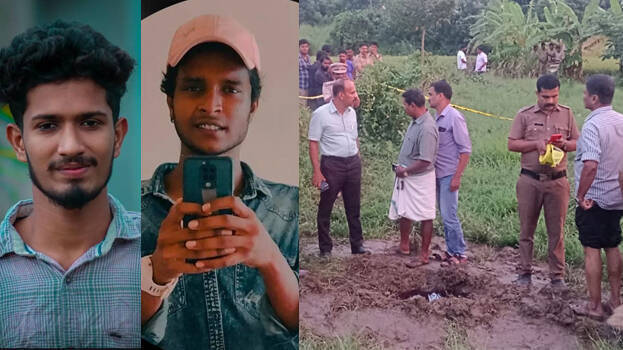 PALAKKAD: The bodies of Satheesh of Puthusseri Kalandithara and Shijith of Kottekad Karakkottupura Thekkemkunnam were buried in the paddy fields at Karingarapully in Kodumbu panchayat after ripping open their stomach. Palakkad SP told media that the bodies were buried in a depth of one meter. He told media that the bodies were identified as that of Satheesh and Shijith and they lost their lives after coming in touch with an electric trap placed for pigs. The land owner Anandan who is in custody in connection with the incident is being interrogated. The police are likely to arrest him today and will be taken for collecting evidence.
The land owner found the youths electrocuted in the fields on Monday. The police believe that he may have buried the bodies on that night. The youths were found buried last evening at 5 pm. The bodies were taken out Wednesday morning. The bodies were placed on top of the other and did not have any clothes.

The police had registered a case against Satheesh, Shijith, Abhin and Ajith in an assault case that happened at Veneli area near Karingarapully on Sunday night. While the investigation was going on, the four reached Satheesh's relative's house in Karingarapully. In the meanwhile, fearing that the police had reached the spot, the youths left the relative's house yesterday morning and ran in two directions.

The preliminary conclusion of the police is that two youths may have died after coming in touch with an electric trap. The bodies of the two were found buried in the paddy fields last evening. When their friends were not seen the next day, the two youths reached the police station and filed a complaint. The police team then searched the area and found the bodies. The bodies were lying on top of each other.

The owner of the place, Anandan (52) had given a statement to the police that an electric trap was placed due to severe infestation of pigs. He told the police that when he woke up in the morning, saw the bodies in the field and buried the two in panic.