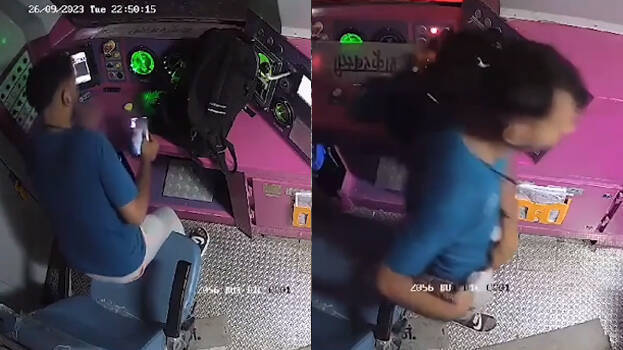 LUCKNOW: A comprehensive investigation has commenced into the incident of a train colliding with the platform at Mathura, Uttar Pradesh. Meanwhile, security camera footage from the engine room at the time of the accident has been obtained. It is suspected that the accident resulted from the negligent conduct of an individual in the cabin.
In the video, an employee named Sachin places his bag on the throttle of the engine and proceeds to initiate a video call. After a while, the train collides with the platform causing significant shaking. Sachin enters the engine room only after all passengers have disembarked. Sachin placed his hefty bag on the engine throttle and initiated a video call immediately upon entering. It is believed that the weight of the bag exerted pressure on the engine throttle causing the train to move forward.
A woman sustained injuries in the accident, and both the engine and platform incurred damage. Railway authorities report that five individuals, including Sachin, have been suspended and the precise cause of the accident will only become clear after the investigation concludes. There are also suspicions regarding whether Sachin was under the influence of alcohol at the time of the accident. His blood samples have been collected for testing. The incident occurred at approximately 10 pm when the train departed from Shakur Basti station.