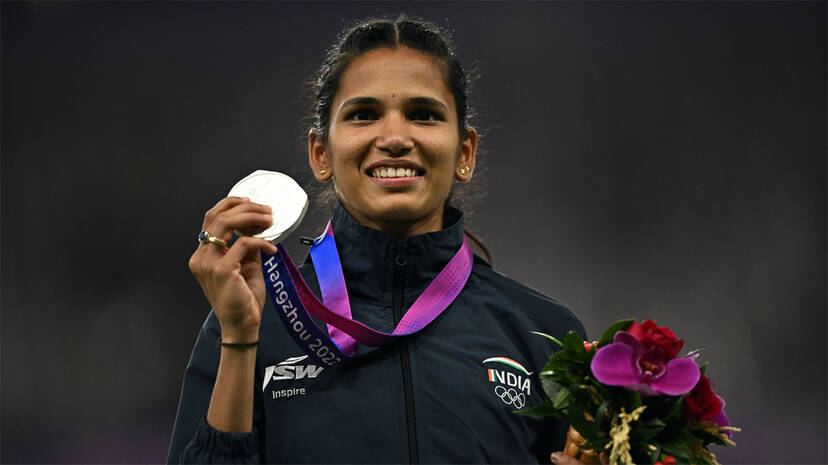 HANGZHOU: India's Jyothi Yarraji won silver for women's 100m hurdles on Sunday and the medal weighed more than gold for all the dramatics Jyothi survived. Jyothi just moments before the start of the hurdles faced a false start drama played crudely by Chinese officials.
Chinese athlete Wu Yanni made an early start triggering Jyothi to unknowingly move forward. A big drama ensued as the authorities wanted both Chinese and Indian athletes to be disqualified. However, after the Indian Athletics Federation filed a timely appeal, the Chinese star, who had been declared the silver medalist, was disqualified and the same was awarded to Jyoti, who finished third.
Wu Yanni started the running before the gunshot. As per the rules, if made a wrong start, the player will be red-carded followed by disqualification from the game. However, the officials also handed a red card to Jyothi who was next in the lane to Wu Yanni. Jyothi vehemently protested about her hand being on the track when the gunshot blared.
This delayed the match. After re-examining the footage, both stars were dramatically recalled to the match. Chinese player Lin Yueyi finished first, Wu second, and Jyoti third. The athletic federation again moved an appeal forcing the officials to check again the footage. After a detailed check, Wu Yanni was disqualified from the match and the silver was thus passed to Jyothi, who hails from Andhra Pradesh.
" It was chicanery from China. Jyothi did no fault start but the officials wanted to disqualify her. At this time, China intruded into the scene saying they were willing to take back their athlete along with India's, but that trick never worked." said Anju Bobby George.