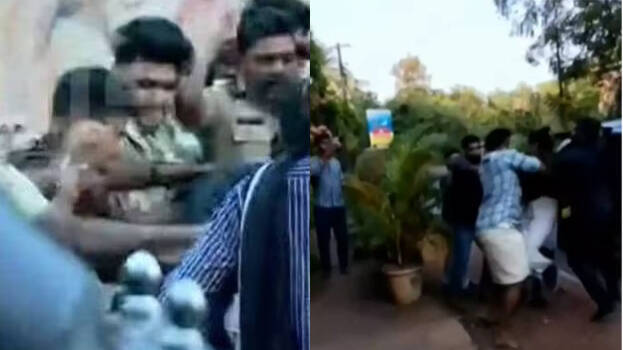 KANNUR: A clash broke out in Pazhayangadi in Kannur after a group of Youth Congress workers waved black flags against Chief Minister Pinarayi Vijayan. The issues started after Youth Congress activists waved a black flag towards the special bus for Nava Kerala Sadas near Pazhayangadi Police Station in Kalliasseri constituency. Soon, the CPM workers present in the area manhandled the Youth Congress workers.
Seven Youth Congress workers, including Youth Congress District Vice President Mahita Mohan, were injured in the clash. The Youth Congress workers bypassed the heavy police security and staged a protest as the Chief Minister was returning from the Nava Kerala Sadas held at Palayam Maidan in Madayi Para. While the police were moving the protestors, CPM and DYFI workers reached the spot and attacked the Youth Congress workers. A video of the incident has come out. The video shows the protesters being hit on the head with helmets and kicked to the ground. The injured were admitted to a hospital in Thaliparamba.
CPM workers also protested against the police who reached the spot to bring the situation under control. CPM workers staged the protest alleging that the police failed to provide adequate security to the CM and other ministers. Meanwhile, it is alleged that a number of DYFI attackers entered the compound of the Pazhayangadi station and attacked the Youth Congress and MSF workers, who came out of preventive detention.