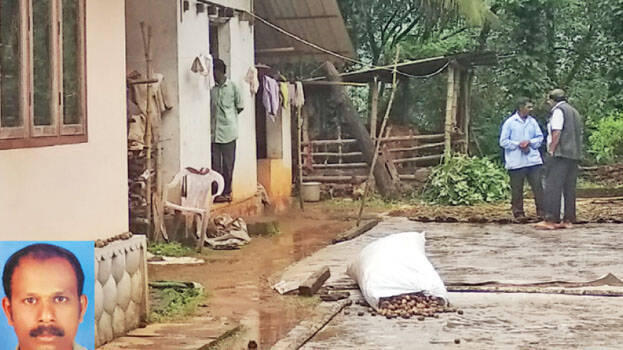 KARIKKE: In the Malayalam movie 'Meesa Madhavan' there is a scene where residents of a house traps the thief. At Karikke Panchayat in Karnataka, residents of a house set up a similar trap. The thief was shot dead by the house owner. Honnanna (65) of Ellukachi was arrested by the police for shooting D.C. Ganeshan (40).
As theft became a regular occurrence, Honnana and his wife called their son Indudharan, who was in Bengluru, to their house. They plotted to catch the thief which is similar to the famous scene from 'Meesa Madhavan'.
In a one-room shed close to the house, betel nuts are kept. A rope was tied on to the door of this room with other end tied to an aluminum vessel in the kitchen. When someone opens this door, the aluminum vessel will fall down with a loud noise. They planned to catch the thief on hearing this sound.
On Thursday, the residents hear the sound of the vessel and rushed to catch the thief. Ganeshan, the thief dropped a sack of betel nuts on the floor and tried to escape by threatening with a knife. Honnana fired at Ganeshan and informed the police. The thief had died by the time police reached the spot.