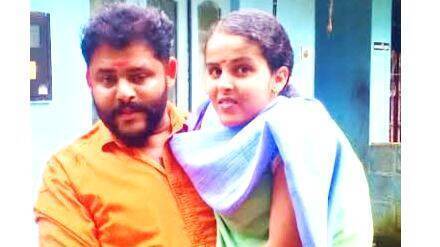 MALAYINKEEZHU: The video of Manu carrying his younger sister during the occasion of the former's engagement has recently gone viral on social media. Since then, both the siblings started receiving immense love from people from various corners.
Meenu, whose legs are paralyzed, always required some support and Manu has always been that support. He loves her very much and doesn't mind carrying her to any place she desires. Meenu also suffers from the damage of a heart valve and hearing disorder. The siblings, who lost their father 8 years ago, live with their mother who works in a nearby temple. The family is living in a rented house in Puliyarakkonam near Vilappilshala.
When quizzed about his marriage, Manu said that he always wanted a girl who can take care of Meenu when he goes to work. He recently became fortunate when he got engaged with one Ramya Ramesh who readily agreed to his wish. Ramya is the Pattom ward councilor in Thiruvananthapuram Corporation. Their wedding will take place on December 12.