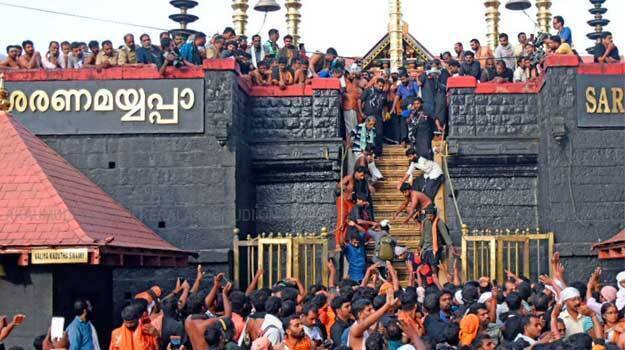 NEW DELHI: The Supreme Court referred the re-examination pleas permitting women of all ages to enter Sabarimala to a higher bench. The verdict was pronounced by a constitution bench of Chief Justice Ranjan Gogoi, Justices A M Khanwilkar, Rohinton Nariman, D Y Chandrachud and Indu Malhotra. When the chief justice, Khanwilkar and Indu Malhotra referred to a larger bench the other two Chandrachud and Rohinton Nariman opposed it. It is interesting to note that when the verdict leaving the case to a higher bench was only nine pages long, the dissent was recorded in sixty-eight pages.
The content of the ruling is that the seven-judge bench should have a broader stance on defining religious and constitutional rights. Accordingly, the higher bench has to decide seven things before pronouncing the verdict on women entry.

Seven things that should be examined by a higher bench
The inter relationship of constitutional provisions for religious freedom?
Definition of public order and morals?
What comes under constitutional ethics?
Does the court has to decide on the religious custom? Or leave it to the religious head?
Explanation of the Constitution's reference to a section of the Hindus?
Is there constitutional protection for undivided religious practice?
Should the public interest litigation be considered on unrelated subjects?
The court said religion is of prime importance. Women's entry in mosques and parsi women's entry in their worship places are connected to Sabarimala verdict. This should be considered by a higher bench and the verdict also states that they have the right to follow customs.
The Shirur Mutt case is the basis for this. The apex court has ruled that the rituals of the mutt should be decided by the heads of it. This is not in the case of Sabarimala. The verdict of the three in the bench is that the higher bench should examine all these things.