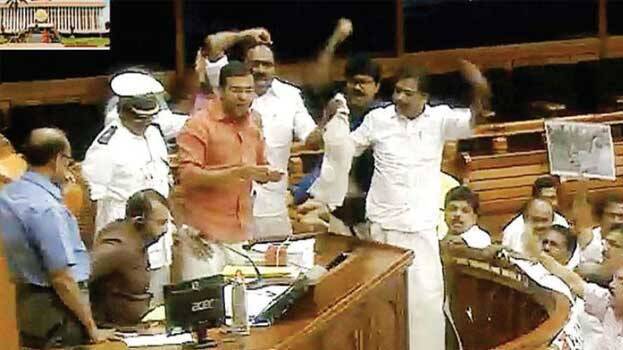 THIRUVANANTHAPURAM: Speaker P Sreeramakrishnan on Thursday took action against four opposition MLAs who staged a protest at the speaker's dais the other day. Opposition MLAs Roji M John, KC Balakrishnan, Eldhose Kunnappilly and Anwar Sadat were censured for violating the discipline of the assembly.
Earlier on Wednesday, the MLAs had climbed on to the dais and staged protest over police lathi-charge on KSU workers and Congress MLA Shafi Parambil. Following the MLAs protest, the speaker had left his seat. In case of abnormal shoutings, the speaker usually announces the adjournment or postponement of the session. However, it must be noted that the speaker had left without making any such announcements.
Following the speaker's action, opposition leaders have pointed out the protest staged by LDF MLAs during former Finance Minister KM Mani's budget presentation. They even showed pictures of the present speaker among the group of protesting LDF MLAs.