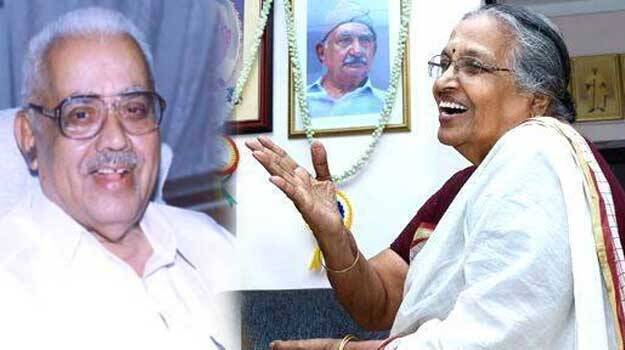 December 9 is the 110th birth anniversary of former Kerala Chief Minister E K Nayanar. He was one of the populist chief ministers who worked for the ordinary people after understanding their mind. Among Kerala politicians, only he has the record of being the chief minister for 11 years, party secretary for 11 years and the Opposition leader for 11 years.

Nayanar's wife Sarada teacher is currently on bed rest for she recently fractured her leg.

From her house named 'Right' in Ernakulam Kumaranashan Nagar, Sharada teacher walked down the memory lane when Kerala Kaumudi reporter talked to her.
Excerpts from the interview:
About marriage:
"Ours is a party family. I was double OK when my uncle asked me whether I was ready to marry comrade E K Nayanar. Our families knew each other. I was 23 and 16 years younger to him. Because of that I had been pampered a lot by him.

Soon after the marriage, this was his first condition: ''Sharada, you are the wife of a politician…wife of a communist. I may not be able to fulfil all your wishes… Please understand this".

In our life thereafter, I have never disturbed him for family matters.
He never took me to places where he went. He went two times to Kashmir. During the first time when he returned I told him: you could have brought me a Sari at least.
The next time when he went, he sent money with his private secretary Muraleedharan Nair to buy sari for me.
Nayanar's birthday
Even today, I love to be called a Communist. When I was in Kallyassery, I was a strong believer who took bath every morning and went to temple. His birth star is Chathayam and was born in the Malayalam month of Vrichikam. When he was alive, I used to go to temple and made offerings to the temple deity during his birth day; he never questioned it."