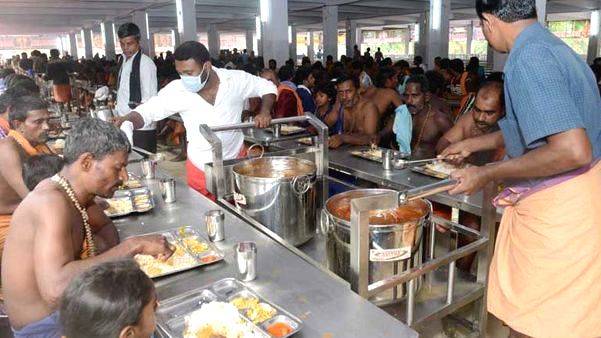 THIRUVANANTHAPURAM: Travancore Devaswom board has decided to give the contract of 'annadanam' (food supply) at Sabarimala to an organization backed by RSS. The decision was taken in the devaswom board meet held on the previous day. The contract is given to an organization called 'Ayyappa Seva Samajam'.
'Annadanam' had been organized by devaswom board for more than three years and now the decision to hand over the responsibility to 'Ayyappa Seva Samajam' was taken pointing that the board does not have sufficient fund. It has been alleged that the devaswom board has taken this decision sabotaging high court verdict.
'Annadanam' at Sabarimala was organized by several organizations for many years and later, the responsibilty was given to the devaswom board following high court verdict. Devaswom board had made necessary arrangements for this. However, devaswom board president A Padmakumar clarified that the board cannot organize this at present due to financial constraints. Board also clarified that the contract was given to 'Ayyappa Seva Samajam' as no other organizations showed interest.
Ayyappa Seva Samajam was found by former BJP state president Kummanam Rajaseskharan and it is currently led by Swami Ayyappadas. Meantime, Congress alleged that the board's decision is contempt of court.