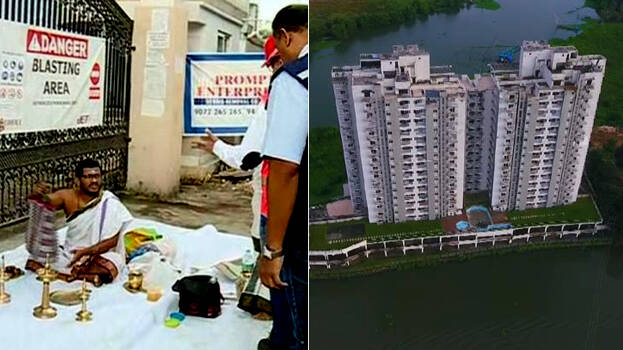 KOCHI: With only under an hour left to the demolition of two flats in Maradu, a pooja ceremony has been carried out. Edifice MD Utkarsh Mehta has said the demolition can be carried out 100 percent safely. He said the fall will not affect the residences nearby. Construction wastes won't fall that much on to the lake, he said. But the smoke of dust on demolition might be a concern which can be controlled used fire engines.

The district collector has declared prohibitory orders in the region from 8 am to 4 pm on Saturday. Residents in the area have been evacuated. Ten fire engines and two scuba vans have been set up along with 100 firemen.
Within the 200 meters of demolition, only the people assigned to carry out demolition works will be allowed. Traffic through air, land, and water will not be allowed at this time. 1600 policemen have been deployed.
Holy Faith (19 storeys) will be razed to the ground at 11 am followed by Alfa Ventures at 11:05 am.
Sirens:
10.30: Traffic control
10.55: Warning siren
11.00: Holy Faith demolition siren
11.05: Alfa demolition siren
11.15: Traffic resumes
11.45: Siren for people to return home