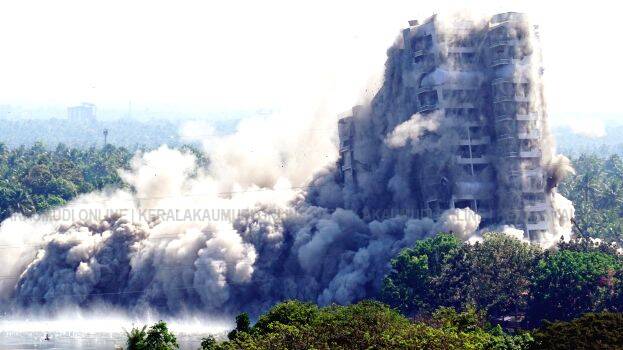 KOCHI: While the world was watching the demolition of flats in Maradu, filmmakers were also there to shoot the footage. One of those was director Kannan Thamarakkulam who is doing a movie named Maradu 357, that essays the story of the demolition of the flats that served as the residence for 357 families. Blessy, who was a resident in the demolished Holy Faith H2O, is another director who is directing a documentary on the demolition. Major Ravi, another resident of the demolished Holy Faith apartment complex, is doing a movie that sheds light on the real culprits behind the issue.
Demolition footages were shot for these upcoming movies and documentary. Even though the crew of Maradu 357 tried to shoot the preparations for the demolition, the district administration denied the sanction, Kannan Thamarakkulam said. Later, these scenes were shot from outside the flat. The movie written by Dinesh Pallath is scheduled to release in March.
Director Blessy is making a documentary that's a first-hand experience of the demolition. He had earlier shot the scenes needed for the documentary and has now acquired the footage of demolition as well.
In his version of the Maradu flats demolition, Major Ravi is planning a revelation behind the incident. "My movie will shed light on the real culprits in the incident. I have experienced the life in this apartment and the mental state of the residents here after the Supreme Court order. All those emotions will be a part of the movie", Major Ravi said.